20/08/2012
Kubrick e i obietivi super luminoxi
Sercando fra ƚe nòde de produsion de 'l "Napoleon" de Kubrick se cata riferimenti a i studi e truchi che sto gran fotògrafo el faxeva 40 ani fà. Xèra el 1969, novenbre, e el gaveva xà el progèto "Napoleon" in faxe avansada (anca co' racuanti bèsi xà spexi in deriti de autor, protòtipi de monture, e altro).
Xé cuà ƚa prima indicasion de come e còsa che el gavarìa fato par tirar xoxo in luxe anbiente de sera tardi, o in intèrni doparando nòma che ƚa luxe disponìbiƚe da i balconi. Obietivi stra-luminoxi e "tiro" de 'l film in faxe de sviƚupo.
Nòda nùmaro 9:
9. Research has been done in locating an extremely fast
lens, which will cover a 70 mm format. This will allow
shooting to continue on exterior locations beyond the
normal hour where the light becomes photographically
inadequate.
Fast lenses are also vital in shooting interior locations
with only the natural daylight coming from the windows.
We have found an F.95 50 mm lens, made by the Perkin Elmer
Co. who specialize in making lenses for the Aero Space
Industry. This lens is two full stops faster than the
fastest lens presently available for 65 mm cameras and
should even allow interiors to be shot by candlelight.
Despite the extremely high speed of this lens, the
resolution is very good.
Research has also been carried out to find means of
increasing the speed of color film by special laboratory
techniques.
A small laboratory which can be installed at the studio in
Borehamwood, can accomplish this. I believe that a
feasibility study on this subject is being done by the MGM
studio in Borehamwood. Personally, I am convinced it is
not only economically feasible for the studio to invest in
this, but there will also be very significant advantages
that go beyond the profit and loss statement of the lab,
because it will be capable of doing many other things,
particularly in the area of special effects, which are not
currently possible by using the conventional laboratory
facilities available in England.
S. Kubrick
El voƚeva farlo in formato 70mm, come che na vòlta se tirava xó i colossal e doparando un obietivo 50mm F0.95. Ghe xèra xà sperimentasion de "tiro" de ƚa sensibiƚità de i film e se voƚeva inpiantar un laboratòrio de sviƚupo a Borehamwood. Sarìa vegnesto fora sicuramente un gran film, come gran parte de ƚa produsion de Kubrick. Da na parte se sparagnava in monture e conparse e da cheƚaltra se tirava fora el mèjo in òtica e cuaƚità de 'l supòrto de riprexa.
Senoché, no se ghe ne gà fato gninte.
Ma sincue ani pì tardi tuto se riprexenta in "Barry Lyndon" e xé come ƚèxar naltra vòlta ƚa stesa stòria, soƚo che in 35mm invense che 70mm come formato de riprexa. El super-obietivo no 'l xé altro el Perkin Elmer 50mm F0.95, ma el deventa el Zeiss Planar 50mm F0.7. El formato de riprexa pì cèo (manco de metà linear) el ciama focaƚe pì curte, par cui Kubrick el fà adatar el Zeiss co' do elementi difarenti de ridusion de focal xontài so 'l davanti. I obietivi cronpài da Kubrick i xèra trè (so diexe, se dixe, prodoti in total): uno el restava 50mm orixenal, e staltri do, co' i do elementi par davanti, i deventava 36mm (presapoco na focal co' FOV "normal") e 24mm (grandàngoƚo). El 24mm no'l xé mai stà doparà parché el gaveva masa distorsion. Ma el 50 (mèdio tele, primi piani) e el 36 (normal, panoràmeghe) podemo védarli in tute ƚe secuense a lume de candeƚa.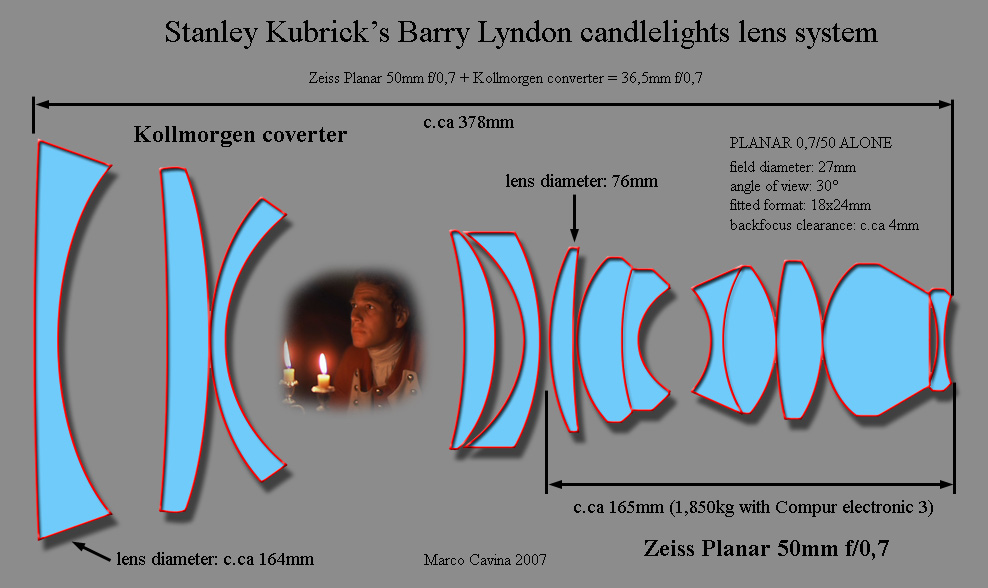 El "segrèto" de sti Zeiss (come xéƚo posìbiƚe che vègna fora pì luxe de cueƚa che entra?) el xèra 'l elemento de drio, ƚa "patata", che el consentrava i raxi de luxe so un formato inferior aumentando de fato i fotoni so ƚa unità de superfice (el Planar orixenal, sensa elemento posterior, el xèra defati dixegnà par el 35mm fotogràfego (24X36mm), dopia superfice de'l 35mm de'l sìnema -18X24mm). Ƚa lente ƚa intrava indrento el còrpo màchina e ƚa tocava scuaxi el film. El oturador Compur, sentral, el xèra inserìo in mèxo, fra i elementi de'l planar. Se meteva a fogo, cuindi, co'l mètro, e se incuadrava co' un mirin estèrno.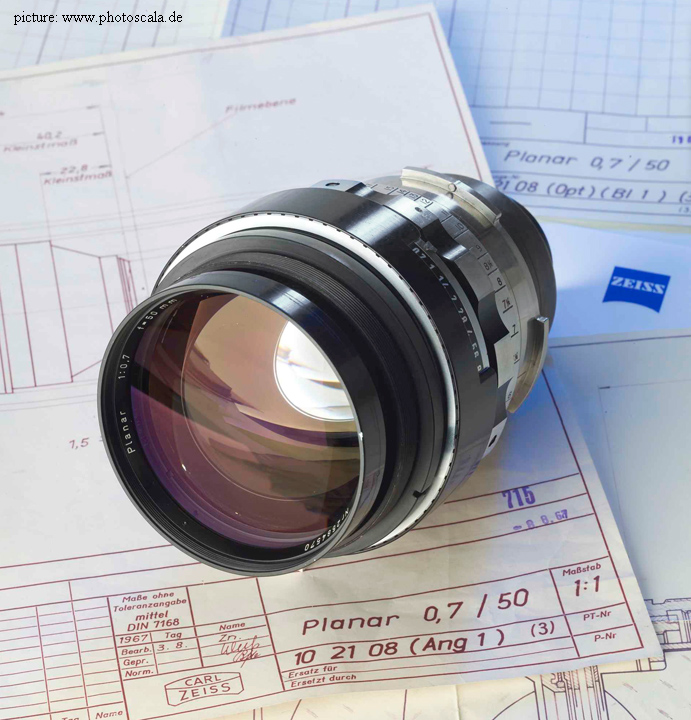 El formato de riprexa pì cèo el gaveva un vantaxo: pì profondità de canpo a parità de FOV e vaƚor T (F); de contro ghe xèra manco superfice ùtiƚe, che xontada a 'l "tiro" da 100 a 200ASA (ancùo se ghe dixe "ISO") riduxeva el gama e ƚa definision rispèto a
ƚa superfice pì granda
. Ma se incontentemo isteso, ecome che se incontentemo! Kubrick el vien fora co' un laoro che el restarà par senpre inte ƚa memòria de i òmeni in avégner.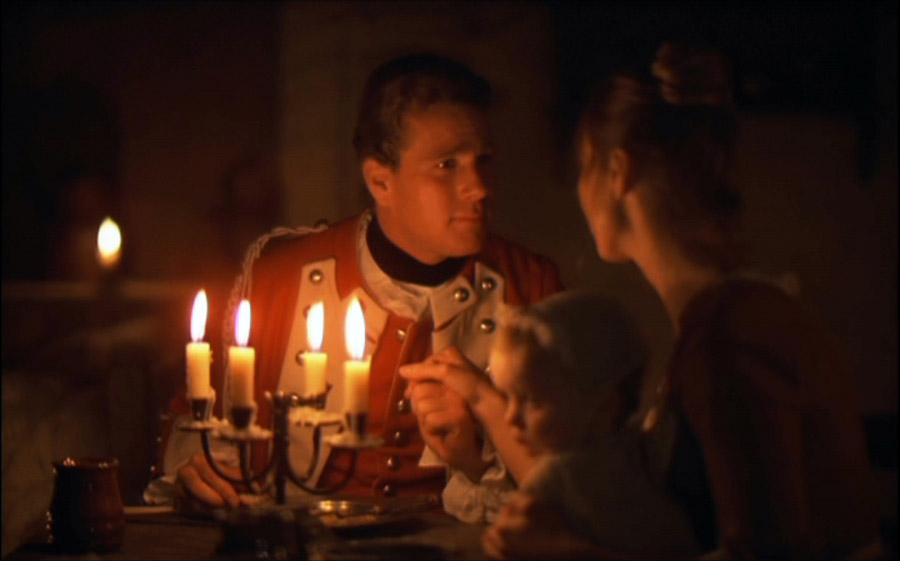 El problèma de sti super luminoxi (come de tuti i super luminoxi de tuti i tenpi) el xèra el "còma" (vedi ƚe fiame de ƚe candeƚe fora fogo):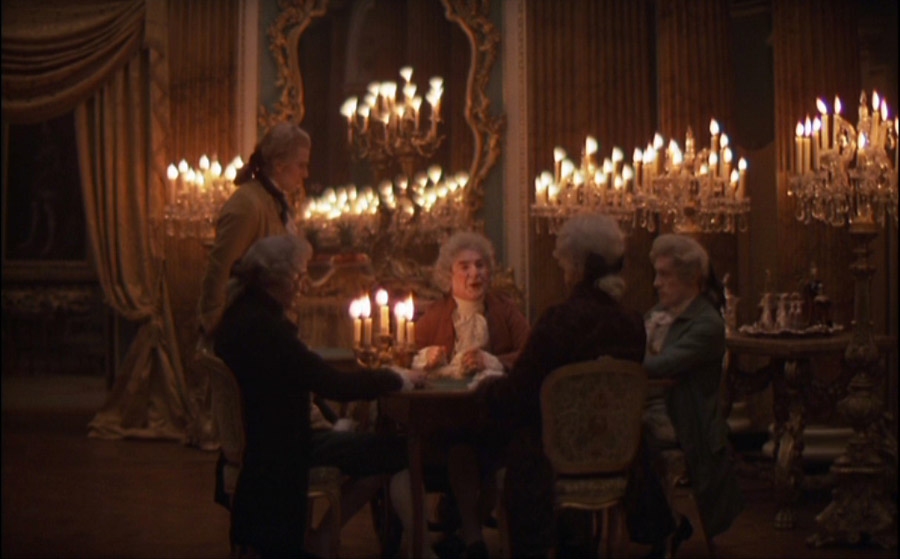 Cuaranta ani pì tardi, chi che no i conose còsa che voƚeva dir ƚa peƚìcoƚa e ƚe emulsion da 100 ASA (dòpo xé vegnesto fora ƚe super sensìbiƚe da 400) i pol anca métarse a rìdar. Ma a l'època el film el se gà merità 'l Oscar par ƚa fotografìa.
I ghende parla inte sto documentario (a 1ora + 23men.), ƚa Mitchell e el 50mm f0.7:
Ancùo basta tirar xó co' na màchina 24X36mm (formato scuaxi grando come el 70mm so
peƚìcoƚa cine
), digital oviamente, parché oramài no se fà altro gnanca i film so selulòide (se proièta diretamente el digital), un obietivo F1.4-2.8 e ISO da 400-3200, gninte de straordenario inte 'l mondo profesional, e se sùpera anpiamente e sensa problèmi i fotogrami de Kubrick. Cuel che manca xé Stanley Kubrick.
Grasie a Marco Cavina par ƚe imàxene da 'l "Barry Lyndon".